Day 258 - September 15
We may have a
new tradition
here!
The family all gathered 'round to watch
Sasha decorate
her own cake.
Day 259 - September 16
We lead Sasha to finding a geocache "on her own" on her actual birthday.
She also got to ride the Snoopy Firetruck at the grocery store.
She also took a rare nap with her brother.
Day 260 - September 17
Sasha wrote her
first word
! I swear she is
teaching herself
to read & write!
Day 261 - September 18
She likes to go see the
Doctor
. She is healthy!
38.8 pounds, 39 inches tall!
Day 262 - September 19
When we arrived home from geocaching,
I discovered this
strange bug
on our SWAG bag. Creepy.
Day 263 - September 20
I made home made
French Bread
for the first time ever! My mini-loaves were so
fat
!
Day 264 - September 21
How about just 1 of
Spencer
this week?
We attended the local
Geocaching meeting
... the hosted game was so much fun!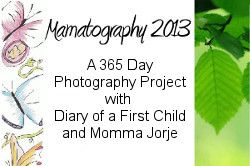 This post is part of the
Mamatography 2013 Project
with
Diary of a First Child
and
Momma Jorje
.
We are taking (at least) a photo a day to keep a record of our year. Join us at any point during the year and start sharing your own daily photos!