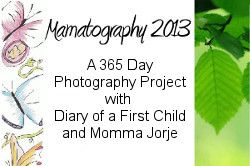 I hope you have all enjoyed my
Mamatography
posts this past year (and the year before, as well!). It is a really fun project, but we understand that it can be hard to commit to (and keep up with) posting a photo from every single day for 365 straight days, even with just posting weekly or monthly!
For those that need a lighter version (
my co-host included
), we're
changing
things up a bit for 2014. You will be able to participate in one of three ways:
Photo a Day

Pic / Pick of the Week

Best of the Week


You do not have to decide in advance how you plan on participating, you can decide on the day you post the pictures on your blog. You can write about your picture, or just have a heading, or go totally wordless too. This means you can adapt it to run alongside other picture-a-day or wordless/wordfull Wednesday posts too, if you wish. I still tag my posts as wordless, even though I totally include captions! This year has almost been a sort of pictorial diary for me.
Here are some examples of the options mentioned above:
However you choose to do it, the concept of Mamatography is to have a way to remember the everyday, the mundane, the beautiful. If you only did laundry today, take a picture of that. If you did batch cooking, take a picture of that. That's the idea behind Mamatography – being able to look back on your year, the bright and beautiful, and the mama-stuff no one takes note of. Include as much or little about your children as you wish. Document your weight loss, your sewing. Whatever takes your fancy!
What do you need to participate?
A blog – if you don't have one, you can start one for Mamatography quite easily!

A camera or camera phone.
So, if you'd like to sign up to join us in this project for 2014, do so here, and we'll send you a getting started email next week!