Day 27 - January 27
I washed, cut up and then dipped our
gorgeous co-op strawberries
in chocolate!
I also did some grapes, pineapple (also from co-op) and banana.
Day 28 - January 28
My
happy boy
in his trainer undies, chomping on... apple, maybe?
Day 29 - January 29
Ronni decides to do a late night
banana mask
.
Nothin' but banana. He got it from a book.
Day 30 - January 30
Some days I swear this girl is headed for a broken neck!
Here is
Sasha
sitting on a soccer ball on a chair.
Day 31 - January 31
The littles love this
giant beanbag chair
!
I also think climbing
out
of it is a good workout for Spencer.
Day 32 - February 1
Ronni brought home
chocolate fudge cake
from his volunteer work!
I had asked him to get french bread if there was some. He brought me TEN loaves!
Day 33 - February 2
The
kids all playing
on the giant beanbag chair.
This week's
co-op haul
is on the table, too.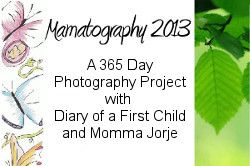 This post is part of the
Mamatography 2013 Project
with
Diary of a First Child
and
Momma Jorje
.
We are taking (at least) a photo a day to keep a record of our year. Join us at any point during the year and start sharing your own daily photos!
***

Without further ado, here are the Mama/Papatography 2013 participants!