Day 48 - February 17
Spencer
loves
these little Black Ops
coins
!
Day 49 - February 18
I'm always a sucker for pics with Daddy!
Day 50 - February 19
Physical Therapy Evaluation
Day 51 - February 20
Snow Day! The girls made the shortest little
snowman
... and the neighbors stole it.
Day 52 - February 21
Time for a new approach to Spencer's
restlessness
.
Day 53 - February 22
My "
Little Man
" in tube socks and underwear!
Day 54 - February 23
Ronni made mini-pizzas and Sasha ate, face-first, starting at the top.
She looked like a
zombie
, no?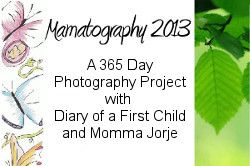 This post is part of the
Mamatography 2013 Project
with
Diary of a First Child
and
Momma Jorje
.
We are taking (at least) a photo a day to keep a record of our year. Join us at any point during the year and start sharing your own daily photos!
***

Without further ado, here are the Mama/Papatography 2013 participants!