Day 83 - March 24
Have I mentioned I'm a sucker for "Daddy Pics?"
I'm actually a sucker for
Daddy bonding moments
. They make me grab the camera.
Day 84 - March 25
Attended a meeting / presentation / play date with our local "babies with DS" group.
Cracked us up that Spencer was
sitting in Lily's lap
!
Day 85 - March 26
Session 3 of
Speech Therapy
- discovered the perfect room for Spencer!
He also started to really work with our SLP! I was
verklempt
!
Day 86 - March 27
Surprise baby shower
for Lily's mommy!
Later Spencer had his 15 month WCC.
Day 87 - March 28
These post-visitation naps throw a wrench in our nights.
Day 88 - March 29
...holding his foot in his sleep...
later he rolled over onto his belly, still holding that foot
Day 89 - March 30
Annual egg dying at Grandma & Grandpa's house!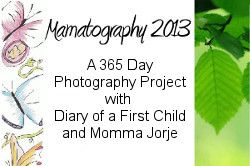 This post is part of the
Mamatography 2013 Project
with
Diary of a First Child
and
Momma Jorje
.
We are taking (at least) a photo a day to keep a record of our year. Join us at any point during the year and start sharing your own daily photos!
***

Without further ado, here are the Mama/Papatography 2013 participants!