Day 106 - April 7
This is my
favorite shirt
. I tie dyed it while pregnant with Sasha. I'll miss it when Spencer outgrows it and will definitely save it for grandbabies!
Day 107 - April 8
Sasha
playing
in the Dining Room / Play area.
Day 108 - April 9
Wait... its a
Daddy pic
and a
sleeping baby pic
?! Cuteness overload!
Day 109 - April 10
Uncle B
with the littles!
Day 110- April 11
Spencer loves "playing" with our Child Development Specialist
from the Sooner Start (state program),
Kristin
.
Day 111 - April 12
Now that we're back to
sleeping in our own bed
, I've moved the pallet for good napping.
Day 112 - April 13
My goofy friends were showing Sasha how to scrunch up paper
really
tight for the fire... apparently it works better if you make an
angry face
.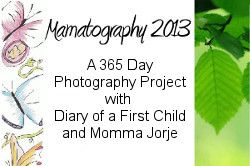 This post is part of the
Mamatography 2013 Project
with
Diary of a First Child
and
Momma Jorje
.
We are taking (at least) a photo a day to keep a record of our year. Join us at any point during the year and start sharing your own daily photos!




***

Without further ado, here are the Mama/Papatography 2013 participants!