Day 216 - August 4
Our first
Geocaching
adventure!
Day 217 - August 5
Our second geocaching adventure lead us to this cool pedestrian
bridge
in town.
Day 218 - August 6
Spencer loves to climb up on this
table
when its empty.
Day 219 - August 7
Spencer
scribbling
with Jill at Occupational Therapy.
She always helps him
amaze
me!
Day 220 - August 8
Today is our 4th Wedding
Anniversary
We drove a couple of hours to camp at
Devil's Den State Park
in Arkansas.
Day 221 - August 9
We finished our camp set up on the second day by adding a
tent for playing
.
Day 222 - August 10
This beautiful
grasshopper
landed on our windshield while we were looking for a geocache on our way home (a day early).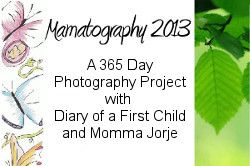 This post is part of the
Mamatography 2013 Project
with
Diary of a First Child
and
Momma Jorje
.
We are taking (at least) a photo a day to keep a record of our year. Join us at any point during the year and start sharing your own daily photos!