Day 293 - October 20
We traded vans the day before, but our "new" van broke down on us Sunday. We arrived at the Buddy Walk too late for freebies and even the walk portion. Sasha got to play in the inflatables and we got a
team photo
. I was very bummed.
Day 294 - October 21
I was trying to get a shot of his
busted lip
. He busted the outside of his lip at PT Monday.
Day 295 - October 22
Sasha got to decorate a pumpkin at Storytime.
Then I introduced her to
Glue Sticks
at home!
Day 296 - October 23
Spencer had some
freedom to roam
a bit as we
waited for our
urgent endocrinology
appointment.
Day 297 - October 24
Toys
aren't enough for this boy, oh no.
All the
laundry
must be dragged out, too!
Day 298 - October 25
Sasha
was having a rough day and it seemed like we all kept snapping at her.
Once I
strapped her onto my back
, things got better. She needed some special attention.
Earlier in the day: Spencer had blood drawn for the Endocrinologist.
Also earlier in the day: We found out Spencer is quite anemic.
Day 299 - October 26
Daddy Snuggles
Check out
NPN: WW
for a photo from a Fall Fest we attended, too.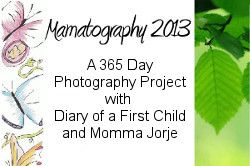 This post is part of the
Mamatography 2013 Project
with
Diary of a First Child
and
Momma Jorje
.
We are taking (at least) a photo a day to keep a record of our year. Join us at any point during the year and start sharing your own daily photos!