Day 13 - January 13
Monster Smoothie the day before, and then a
Fruit Salad
today.
It sure is looking
healthy
around here!
Day 14 - January 14
Its a little dark, but SO
adorable
!
Video taken in a waiting room.
Day 15 - January 15
Feelin' artsy.
Day 16 - January 16
Sasha
getting to have breakfast at the snack-bar and
being silly
.
Day 17 - January 17
Does your kid(s)
go nuts for the dishwasher
??
Day 18 - January 18
Our Pediatrician gives a
free book
at every well child check.
Spencer got a really colorful one!
Day 19 - January 19
All clean and waiting for Housewarming Party guests.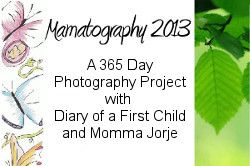 This post is part of the
Mamatography 2013 Project
with
Diary of a First Child
and
Momma Jorje
.
We are taking (at least) a photo a day to keep a record of our year. Join us at any point during the year and start sharing your own daily photos!
***

Without further ado, here are the Mama/Papatography 2013 participants!