Day 69 - March 10
I try to keep the cabinets baby-friendly.
He loves to play with the bags and water jugs under the sink.
Day 70 - March 11
Sleep deprived, I totally just crashed on this bean bag for about... 10 minutes? I was OUT.
Day 71 - March 12
It was
supposed
to be Speech Therapy. He pushed this toy
all over the place
!
Day 72 - March 13
I just let Spencer play while we waited for the Endocrinologist.
Day 73 - March 14
My garlic finally sprouted!! Yay!
(I planted it sideways - oops!)
Day 74 - March 15
A beautiful day! It was definitely time to get some air outside.
Day 75 - March 16
*melt*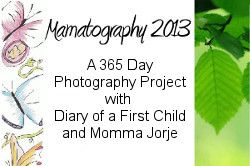 This post is part of the
Mamatography 2013 Project
with
Diary of a First Child
and
Momma Jorje
.
We are taking (at least) a photo a day to keep a record of our year. Join us at any point during the year and start sharing your own daily photos!
***

Without further ado, here are the Mama/Papatography 2013 participants!