Day 55 - February 24
For my upcoming birthday, Elmo got me an appointment
with
Rockstar Dreads
for dreadlock maintenance!
This was my day for 6-7 hours Sunday.
Day 56 - February 25
Spencer is
tall enough
to get stuff off the table now!
Day 57 - February 26
SO sick of the on-site
laundry facilities
available M-F 8-5
Tax Rebate fixed that! Happy Birthday again! hahaha
Day 58 - February 27
Ronni & I had
Beauty Parlor Night
.
I wanted my hair dyed before getting my license renewed!
Day 59 - February 28
We sure make
adorable kids
!
Day 60 - March 1
I added a little
more color
the day before...
Day 61 - March 2
My
birthday party
with my new
crazy hair
!
I love that I learned how to tie my hair up with no tools!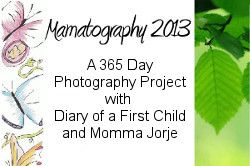 This post is part of the
Mamatography 2013 Project
with
Diary of a First Child
and
Momma Jorje
.
We are taking (at least) a photo a day to keep a record of our year. Join us at any point during the year and start sharing your own daily photos!
***

Without further ado, here are the Mama/Papatography 2013 participants!