Day 76 - March 17
Ronni brought a watermelon home from volunteering Friday.
He carved it into this rose!
Day 77 - March 18
I made
finger paints
! They turned out a lot thicker than planned, but they were usable.
It took some time for her to warm up to getting messy, but she has a blast!
She used them ALL! Time to make more!
Day 78 - March 19
Second Speech Therapy session, with Jordan.
Still seems a little chaotic and get-to-know-you... ish.
"buh, buh, buh, BUBBLES"
Day 79 - March 20
We're half way between well child checks, but I had some concerns for the pediatrician.
Sasha still loves going, thinks its something special. The extra attention helps, too.
Day 80 - March 21
I made
play dough
, too! These two had fun. Ronni made a rose here, too.
Day 81 - March 22
I have finally started letting Sasha spin the chair, as long as Spencer is asleep.
Day 82 - March 23
I have, so far, stuck with hosting some sort of social event once per month.
Here is my kitchen, looking nice before our "Heathen Hang Out."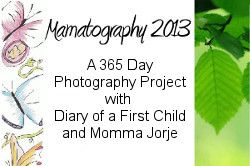 This post is part of the
Mamatography 2013 Project
with
Diary of a First Child
and
Momma Jorje
.
We are taking (at least) a photo a day to keep a record of our year. Join us at any point during the year and start sharing your own daily photos!
***

Without further ado, here are the Mama/Papatography 2013 participants!